PRICES
Rim-blown Flutes: $200+ Lengths 24 inches and up ($10/inch), Inside Bore Diameter 3/4 to 7/8 inches ($100+ Bamboo), $350-$400 Room 33 Reproduction- I also make a burned version with no paint, just burned lines.
Block Flutes: HI: $100+, MID: $175+, LOW: $250+, Lower keys $300+
Single-chambered: $20+
Bone Flutes/Whistles: $40 for copper, $60 for Turkey ulna (wing) and for Turkey tibiotarsus (drum stick).
ORDERING
If you are interested in ordering or purchasing a flute please contact me. I can send you an invoice for your order. Read more about my flutes if you want to order a custom flute not offered on this site. It takes at least 1 week to 2 months to complete a flute, depending on how many orders I have. I don't require a down payment, but I do ask for your patience for my flutes are not mass-produced or turned on a lathe. They are unique hand-carved, hand-shaped instruments made for your enjoyment.
PAYMENT OPTIONS
I accept and prefer PayPal. I am also willing to trade for other flutes (Bird Head flutes), or anything of equal value. Just let me know what you have to trade. If you have or do not have a PayPal account you can pay with Visa, MasterCard, American Express, or Discover. I can send you a Paypal Invoice and you can pay through that email. I also accept Money Orders, but I will only ship after I have received the Money Order.
SHIPPING
The price of shipping to lower 48 states is included in the price. I ship with the United States Postal Service (Priority Mail). Shipping price depends on the weight of the final package. International Orders will be extra. Priority Mail usually takes 2-3 days for delivery.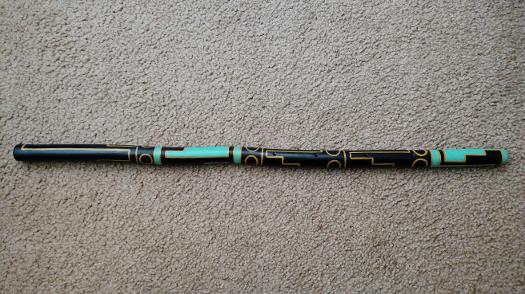 I have several flutes
available at the