My Bio
My name is Marlon Magdalena, aka Ælu'æki or aluaki (translates to "Young Elk", It is my Jemez name). I am a tribal member of Jemez Pueblo, a federally-recognized tribe in New Mexico. I am born into the Coyote Clan. I am the desendant of the Magdalena and the Sando Families, as well as the Panana, Vigil and Mora Families. I am an artist, educator and performer. Flute and song making is my art, and I share my art through the flutes I make and through my performances. I am an educator at the Jemez Historic Site where I am able to educate the public about my culture and my art.
My life is centered around my family and community of Jemez Pueblo where I have gained much of my knowledge, and it is where I continue to learn new aspects of who I am. I proudly participate in all aspects of Jemez Life; like, speaking the Jemez Language, planting Jemez corn, singing Jemez songs, and dancing Jemez Dances. I am proud that I am from a place that still continues our ancient ways of life.
Art has a been a large part of my life. I draw and paint, but now, I mostly hand-carve flutes. I currently make and sell several kinds of woodwind instruments found in North America; Rim-blown Flutes, Block Flutes and small bone flutes and whistles. I also make small paintings (mostly of various animals) and traditional crafts (i.e., leather pouches). I also give performances with the flutes I create and with flutes made by others.
My Performances
I perform flute music for many types of venues, like, museum openings, cocktail parties, receptions, small concerts, etc. When I perform I try to present myself in the most respectful way that I can. I dress how a traditional Jemez Man would for any of our special occasions, because that is who I am representing. I also represent the Flute Spirit. In Jemez, we say that if you are performing in the plaza, or at other places, you are performing not only as yourself, but as the spirits you are dancing, drumming or singing for. I sing through the flute, I give the Flute Spirit a voice with my breath, my heart and my mind. I respect it. That is why I dress the way I do when I perform. I give that much respect with each performance, and I give that much respect to the people hearing my songs.
My First Flute
I fell in love with the sound, the construction, and ease of play when I bought my first Block flute at the 2007 Memorial Day Powwow at the Red Rocks north of my home. After that moment, I had to learn more about this wonderful instrument. I began researching Native Flutes on the internet, and my eyes opened up to whole new world of Native America I had never known before.
Most of my research has been on the internet, but I had to buy a few flutes to actually see what is out there in the Native Flute world. Through my research I have been able to learn more about my own Cultural heritage.
I found an image of a Jemez Pueblo flute from 1907, in a book called, Objects of Myth and Memory: American Indian Art at the Brooklyn Museum, and is the only Jemez Flute I have seen. So from researching flutes I was able to find a flute tradition in my own community that I never knew existed; for this reason, I continue learning about flutes from Jemez and from other countries around the world.
Past Presentation (Online Article)
Music, archaeology come together at Aztec Ruins- Farmington Daily Times, July 3, 2016
(Site Established June 2009)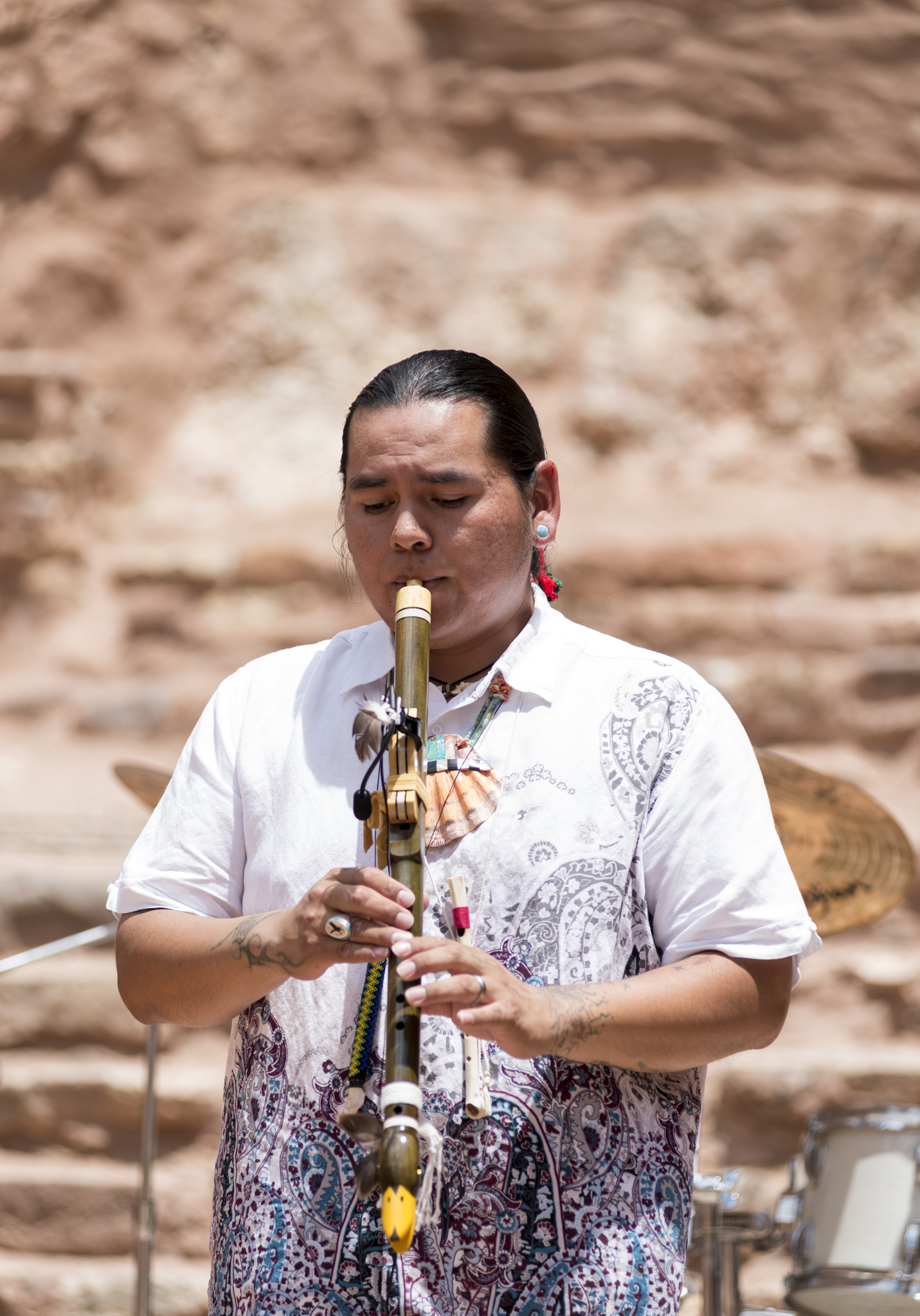 Marlon playing at the Summer Concert at Jemez Historic Site in June 2015. Photography by Jason S. Ordaz, 2015
My Logo
One line follows the outline of my clan, COYOTE. It ends with the lightning bolt which is my initials, MM. The stars represent my middle initials, TK.